| | |
| --- | --- |
| The Strain (saison 2) (2015) | 21 Février 2017 |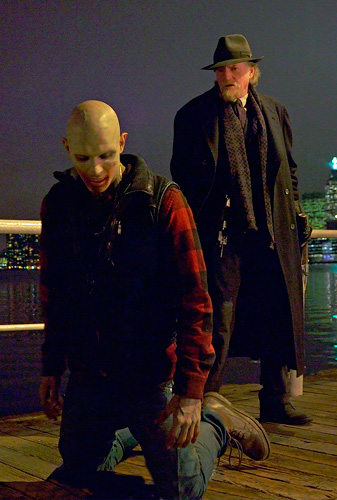 Ayant soudainement un peu de temps devant nous (deux jours particulièrement vides), nous nous sommes dit que c'était l'occasion de regarder une saison entière d'une de nos séries d'horreur. Nous avons hésité quelques instants avec la quatrième saison de Bates Motel mais c'est finalement The Strain qui a retenu notre attention et nous nous sommes donc avidement jetés sur sa deuxième saison.
L'infection (ou l'épidémie) de zombies/vampires est désormais généralisée à New-York et les forces de l'ordre la contiennent au mieux. Notre groupe de héros s'est barricadé dans un appartement et ne tarde pas à reprendre la lutte contre le Maître et ses sbires, pour ne pas le laisser tranquillement prendre possession des lieux et accomplir son sombre plan.
Voici un synopsis qui ne dit à peu près rien sur pas grand-chose, mais cette deuxième saison de The Strain est tout simplement le prolongement de la précédente. Nous retrouvons avec plaisir cet univers apocalyptique où la société humaine lutte pour sa survie, avec toutes les qualités dont savent faire preuve les êtres humains dans ces moments-là, que ce soit la solidarité et le courage ou l'opportunisme et la traîtrise. Cette deuxième saison s'appuie sur les acquis de la précédente et exploite parfaitement sa panoplie de personnages, qu'ils soient "bons" ou "mauvais", au travers d'intrigues intéressantes et bien construites.
On en apprend ainsi plus sur le passé d'Abraham Setrakian, de Thomas Eichorst et des quelques "immortels" que l'on croise, tout en voyant évoluer les plus jeunes protagonistes. Les rebondissements sont nombreux et le rythme plutôt bien maîtrisé, en tout cas lorsque l'on regarde les 13 épisodes en trois jours. Si vous regardez la série au rythme d'un épisode par semaine, il se peut que vous ayez l'impression que l'intrigue n'avance pas bien vite, mais votre intérêt devrait néanmoins être maintenu en éveillé. Comme dans toutes les bonnes séries dramatiques certains personnages ne survivent évidemment pas à cette deuxième saison de The Strain, à vous de découvrir lesquelles.
Cette deuxième saison est plus réussie que la première, le rythme y étant mieux maîtrisé, et nous avons même hésité un instant à lui remettre une pastille verte tant nous l'avons apprécié. Mais la série n'étant pas terminée et les possibilités d'amélioration bien présentes, nous avons jugé plus prudent de nous en tenir à une nouvelle pastille jaune, même si celle-ci est symboliquement plus grosse. The Strain est définitivement une série à conseiller aux fans de vampires vu qu'elle apporte un peu de sang neuf dans le domaine. Vivement la saison 3, en espérant que le niveau s'y maintienne en attendant la quatrième déjà annoncée.
Arflane